In the previous post we told you about 5 simple rules that help you to protect yourself from cybercrimes and taught you how to protect your personal data. Today we want to continue the topic and show you the benefits of using the EmailTray email client for Windows for managing your emails and protecting yourself from spam and phishing.
The EmailTray email client for Windows recognizes senders and enriches your email communication with your contacts' information from their social profiles on Facebook and LinkedIn. This helps you to detect valuable emails and ignore spam, while greatly decreasing your email overload.

Besides, the EmailTray email client for Windows will show the official icons for known senders like PayPal, eBay, Facebook, LinkedIn, etc. This official icons save you from phishing attacks, i.e. from the attempts to steal your passwords or credit card details. You can see the PayPal official icon on the image below.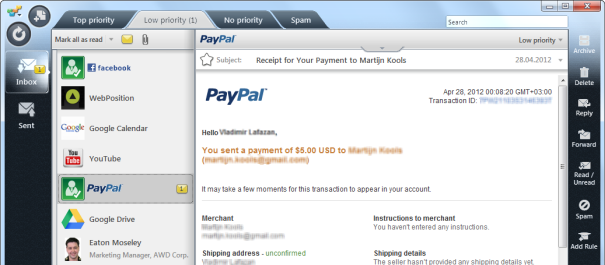 In case a possibly spam email went to your inbox, the EmailTray email client marks it with a special warning, that attracts your attention. Now you can teach the EmailTray email client how to treat such emails in future.

Phishing emails, in their turn, are marked with bright warning sign. You will notice these for sure. And this is really important, because a mistake may cost you a lot. When the EmailTray email client for Windows suspects the email to be a phishing attempt, you will see this bright red warning.

We hope our recommendations and the EmailTray algorithm help you to avoid phishing attacks, save you from spam and make your email management easy and enjoyable.
Download and install the EmailTray email client for Windows and Androids and have an easy time dealing with your email communications and email overload.