Download Free Email Client for Windows
Forget about heavyweight email programs and email overload – migrate to a simple yet intelligent email client for Windows!
Windows XP/ Vista / 7 / 8 / 10
A Free Email Client for Windows – Simple yet Intelligent
With EmailTray, you'll get a free email client with all necessary features at hand: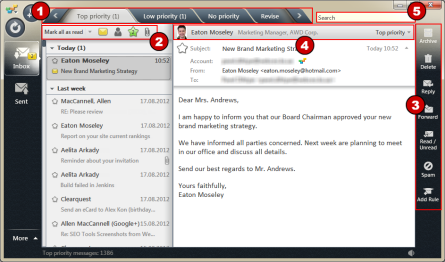 The Top priority, Low priority, No priority, Spam and Revise folders in the Inbox area.
The Filtering and Sorting options you've got accustomed to in any email program.
Actions that you can apply to your messages (Mark as read, Archive, Delete, etc.).
Email sender business cards with links to the sender's social media profiles (Facebook, LinkedIn) and sender priority control.
The Instant search option that allows you to search for the things you need across all of your email accounts. EmailTray searches on the fly – you won't have to wait for ages until your mail client finds what you need.
The Best Email Client for Windows
Looking for a free email client for Windows XP, Vista or Windows 7/8/10? You've come to the right place!
EmailTray is definitely the best email client for Windows for those who love simplicity and hate email overload. EmailTray combines the light weight of a simple email client with the intelligent email ranking of an advanced email program.
Once you download EmailTray and start using this email program, you will no longer have to check mail several times a day. Moreover, you won't need to look through all emails in order to weed important mail out of the junk. EmailTray will do the entire job for you – it will check mail on a regular basis, rank all messages by importance, organize them in categories and alert you about important emails only.
EmailTray System Requirements
OS: Windows XP/Vista/7/8/10
Hardware: 1,2 GHz 32-bit (x86) or 64-bit (x64) processor; 512 MB RAM or greater; 100 MB hard drive space.
Supported browsers: IE 7.x and higher, Mozilla Firefox 3.x, Google Chrome 6.x, Flock 2.x
Supported webmail services and protocols: Yahoo! Mail, Gmail, Windows Live Hotmail, AOL Mail, POP3 and IMAP.
EmailTray is a free email client that will help you manage multiple email accounts, organize mail and get new mail alerts on important messages only. Download this simple yet intelligent email client for Windows and forget about slow computer problems and email overload!