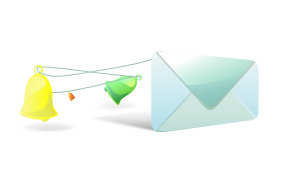 So you use email as one of the important channels for business and personal communication, receive tens or even hundreds of email messages per day, and get distracted to your Inbox many times a day… For those who practically apply time management principles to their everyday life, it is vital to use productivity tools to conquer information overload – in order to focus one's attention on important tasks and eliminate unnecessary distractions.
So where is the way out? A smart email notifier is definitely the best solution here.
Why would you need an email notifier? There might be several reasons for that:
- You want to be focused on your daily tasks rather than checking mail dozens of time per day
- You don't want to miss any important emails
- You want to know about each important mail in time, not in a batch only three times a day (which is what some email overload experts have suggested as a strategy).
In other words, a good email notifier is supposed to free up your hands and save your time, help you manage email efficiently, let you focus on important tasks and improve your email productivity.
Standard features expected in a simple email notifier
Easy and hassle-free setup
Popular Webmail provider support
POP3 and IMAP support, including SSL
No limit on the number of email accounts to track
Visual and sound notifications that can be disabled on demand
Extra features you would love to have
Tray icon notifications about new important emails
Access to the Inbox directly through the email notifier
Custom mail check interval for each email account
Locking your email data with a password
Low cost, or NO cost at all
Advanced features of a smart email notifier
A smart email sorting mechanism which ranks emails by priority
Notifications about IMPORTANT emails only
Smart reminders
Ability to sync mail data between your desktop and Android devices
Having messages from the Spam folders of all your accounts aggregated in one place for a quick check and mass deletion
Do you want to get the most out of your email software? Then go for EmailTray, a FREE email client and a smart email notifier which offers you everything you could ever dream about in an email client.
EmailTray offers easy and lightning-fast setup: just enter the login and password details for each email account (this data will be stored locally on your PC), and this smart email client will configure everything for you.
EmailTray supports all popular Webmail providers (Yahoo! Mail, Gmail, Windows Live Hotmail and AOL Mail), POP3 and IMAP accounts. You are not limited to the number of email accounts to track.
With EmailTray, you can read, reply to and forward emails in HTML; open, save and send attachments, take advantage of the instant search feature, manage your contacts and sync them with your Android devices… and more.
Thanks to an advanced email sorting mechanism, EmailTray knows which emails you need to attend to first and it does not bother you with each and every email. It will notify you about the top priority emails only with a popup window and sound.
EmailTray software is available both as a Windows email client and an Android email app. In fact using EmailTray on several devices improves the accuracy of email sorting across all your devices, as EmailTray remembers the email actions you applied to each email sender and uses this data for better email sorting.