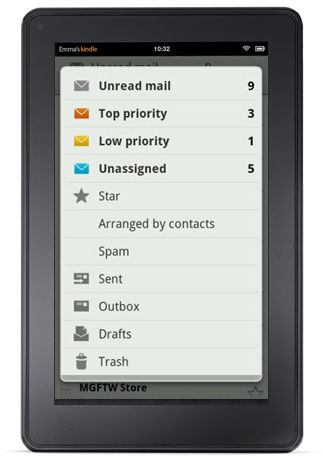 The world of the future, as described in the good old science fiction books, movies and magazines, has already arrived. This brave new world is rapidly changing. In order to succeed you need to be like Julius Caesar and simultaneously do as much as possible. A device that you carry in your pocket and use to read new magazines with your morning coffee, watch movies in the evening and send emails during your lunch, is a usual thing today. An example would be the Kindle Fire from Amazon.
Today we talk about Kindle Fire, because the EmailTray development division of Web CEO Limited has been testing the EmailTray mail app for Android on this device. Join us and get all the benefits of the EmailTray mail app for Android on your ereader/tablet from Amazon.
EmailTray for Android is a mobile extension of the Windows-based EmailTray for desktops, so there is a smart technology behind it. Unlike other email clients, EmailTray is based on an intelligent algorithm that identifies email priorities and sorts messages into folders according to those priorities. It will also notify you about the number of top priority messages you have via sound, vibration or light and also by means of a screen widget. The EmailTray email client remembers your emailing activity via a server hashtag technology, so you can use the EmailTray email client on all your devices (both Windows- and Android-based) and make your email management the most effective.
You should try the EmailTray mail app for Android because:
It estimates email priority based on your past behavior.
It sorts emails into "Top priority", "Low priority", "No priority", "Spam" and "Revise" (when priority is in question and you need to manually decide how to the program should treat such emails in the future) folders.
It rescues good email trapped in the Spam folder by mistake.
A functional widget on the home screen notifies you about the number of priority emails.
Access to EmailTray can be password-protected.
It supports multiple email accounts, both POP3 and IMAP (including push notifications).
It lets you share pictures, music and other content via email easily.
You can group messages in folders as you need.
When you use desktop EmailTray both apps synchronize priority assignments.
Feel free to tell us what you think about our EmailTray email client. We are always happy to get your reviews and comments. Your prompt feedback helps us to improve our products.