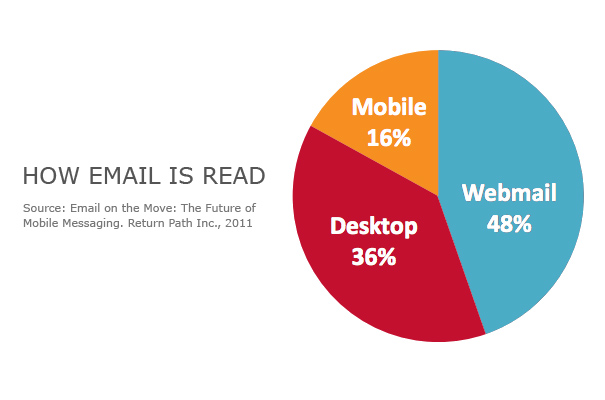 Email is still one of the most popular modes of internet communication, but the sphere of its usage has slightly changed. Nowadays we get information about our friends and family mostly through social networks, whilst email is left for business communications. This business orientation has led to the increased use of email on mobile devices, because in the modern highly-competitive business world it's really important to be always online and take action immediately with important messages.
The comScore research shows that 89.6 million Americans used their mobile phone to access email for work or personal purposes during the three-month average period ending November 2011, growing 28% from the previous year and representing an additional 19.5 million mobile email users.

Over half of "mobile workers" check their email on waking or immediately after getting dressed, – discovered May 2011 iPass survey.

Nielsen research on what mobile users do online showed email to be the most popular activity, accounting for 38.5% of mobile internet time.
Today email on mobile devices is an integral part of doing business. If you manage your email on a mobile device effectively, you may improve your business communications and get constant access to the information you need. When you answer your business emails immediately, you save seconds that create a competitive advantage in our rapidly moving world. Everything changes too quickly so you cannot allow yourself to separate your job from private life nowadays; you will mostly always need to be available via email so as not to lose opportunities. But nobody wants to become a robot that checks its inbox every second like an obsessed maniac. How do you find a balance between your need to read business emails quickly and your desire not to mix business and private life too much?
The EmailTray for Android app is the answer. Its main feature is smart analysis of your email communications that helps to sort your inbox (4 inboxes in this case) according to messages' importance. With the EmailTray for Android app you read only the highest priority  emails and do not waste time deciding what messages you need to read and answer first. Besides smart sorting of emails, the EmailTray for Android app scans your Spam folder and rescues good emails that may have been trapped there by a spam-filter's mistake. These features make you confident that all important emails immediately get to your inbox, sorted by sender priority, and ready to be answered.
Install the EmailTray for Android app to stay on top of this brave new, highly competitive business world.