Support Center
HelpEnabling automatic mail reception
EmailTray can process as many email accounts as you have: since POP3/IMAP accounts are supported we are no longer limited to 4 major webmail providers (Yahoo! Mail, Gmail, Windows Live/Hotmail, AOL mail). Provided locally with your login details, your copy of EmailTray will check your accounts for new messages (the passwords are never sent to our servers) and notify you about new priority messages.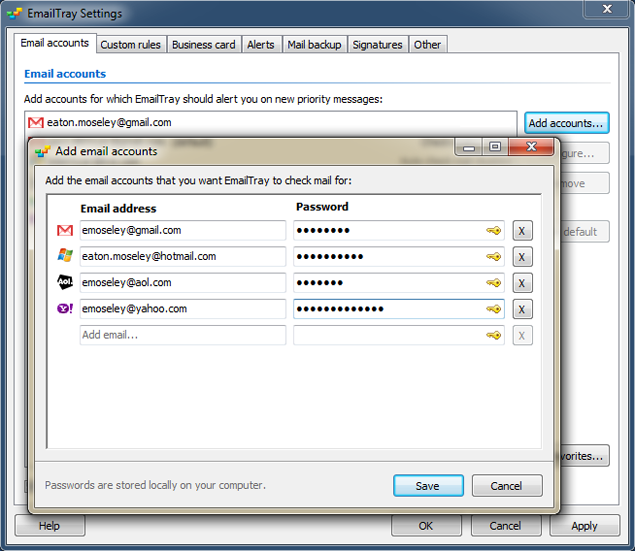 To add a new email account, go to the EmailTray settings > Email accounts and click the Add accounts button. In the pop-up window you can add multiple accounts at once. If EmailTray finds any reference of your email accounts on your PC (e.g. installed MS Outlook with configured accounts or webmail accounts in browser cookies) it will suggest these to you in the list. All you have to do is to specify passwords for those accounts you want to view prioritized messages for via EmailTray. EmailTray will auto-detect the server settings and configure POP3, SMTP or IMAP connection settings automatically. If EmailTray fails to auto-detect the settings, you will be able to configure them manually.
To specify how often EmailTray should check for new messages, select an account on the Email accounts tab and click Configure. Select the connection frequency in the drop-down menu and click OK to save this setting.