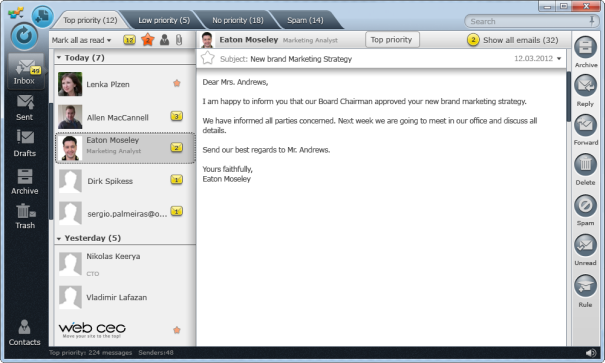 We are glad to share the exciting news with you that the EmailTray 4.0 Beta has just been released! That means that you can now be among the first to try out the new features available only in version 4.0.
Along with the features you already have, a number of the software performance enhancements and eye-catching changes in the EmailTray look and feel, the new EmailTray v.4.0 Beta email client now offers an all-new address book which allows you to manage email contacts, merge duplicates and sync your EmailTray contacts with any of your Gmail accounts.
Email contact management has become a lot easier now. The EmailTray client is smart enough to find duplicate contacts based on a number of criteria and suggest you when to merge them as well as discard a suggestion. The address book feature is available upon pressing the Contacts button on the left-hand panel of EmailTray.
What's New in EmailTray v.4.0
Address Book
A fully-featured address book was added to the EmailTray email client. You can now manage email contacts in EmailTray and sync your contact list with your Google Contacts.
New design
The interface of EmailTray was fully redesigned to make it more user-friendly and up-to-date. The tabs style, which is favored by the most of the users, is now available for the EmailTray folders: simply switch between the Top Priority, Low Priority and other email groups and focus on the messages you need to deal with. The message action panel is now always at hand and easy to navigate
New view mode
Now you can arrange incoming messages not only by date or email account but also by the email sender: view all emails sent from different email accounts belonging to one sender in one click. That means that you will now have quick and easy access to all conversations with a specific person.
Full support of Hotmail
The support of Hotmail was improved and now the work with this mail provider is faster and more stable.
Install the all-new EmailTray and see how its interface changed: the tabs view on top, the all-new features panel to the left, and the email actions right-hand panel giving you quick access to the actions you might want to apply to the selected email message.
Feeling excited? Be the first one to try out the new features and share your impressions with us. We are always happy to get your feedback, questions or suggestions and use these recommendations to revolutionize our software!