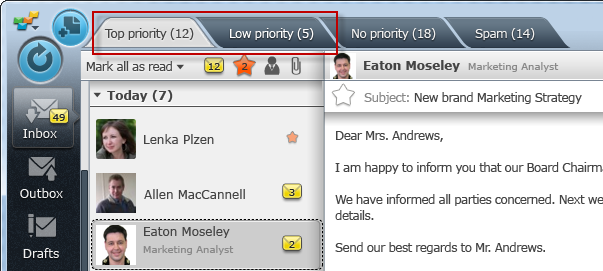 What should your perfect email client do? What functionality are you still looking for? I've tried to use webmail interfaces, checked different email clients, and chose EmailTray. Now I will tell you what features allow me to say that EmailTray is the perfect tool to manage emails.
1. Smart email sorting.
EmailTray helps me to keep my inbox in order.
EmailTray ranks all incoming mail using a proprietary email ranking algorithm, singles out important messages and then lists them under the Top Priority and Low Priority tabs.
With EmailTray you can stop looking through all your "incoming" trying to find the most important email – EmailTray does this for you. Like an attentive personal assistant, it places all the top priority emails into a special folder. If you like to have all your papers, desktop and email in order – this feature alone is enough to try EmailTray, but there are 9 more:
2. Rescuing good mails from spam.
EmailTray helps me not to lose an important email in the Spam folder.
You have certainly found important emails in the Spam folders of your Outlook and webmail now and then. EmailTray scans the spam folders of specified webmail and IMAP accounts and, using our special algorithm, moves good emails trapped by the spam filters to the Inbox.
3. Enhanced address book.
EmailTray helps me to manage my contacts and keep them up-to-date.
Manage your contacts in EmailTray and sync your contact list with your Google Contacts. Besides, the smart algorithm will help you to merge your contacts' address cards, if there are several addresses for the same person.
4. Real people behind the emails.
EmailTray makes email conversation a real person-to-person communication.
EmailTray shows your contacts' data from their social profiles on Facebook and LinkedIn. So when you receive an email from a new person, you can see a photo and some information.
5. Phishing and scam emails recognition.
EmailTray keeps an eye on my online security.
Attempts to acquire information such as usernames, passwords, and credit card details, masked as a trustworthy entity in email are unfortunately common these days.  EmailTray checks whether the sender is real and shows you the official icon if it is (for large or participating email senders that we work with). Now you can feel safe about your passwords and credit cards details.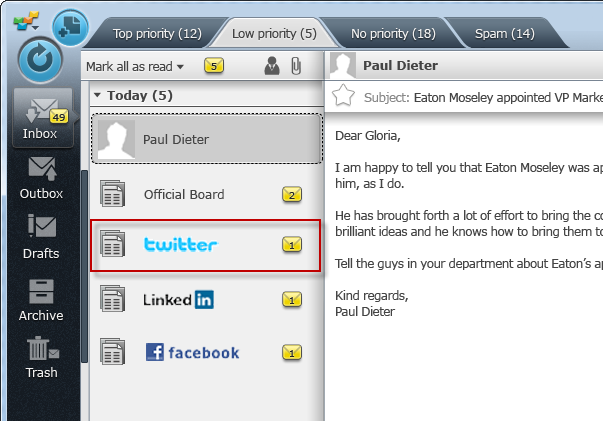 6. Your email data locked with a password.
EmailTray keeps my private emails really private.
This option can help you feel safe about your email accounts if you use EmailTray on a computer that is used by several users. Set a password and only you will be able to use your EmailTray.
7. Customized signatures.
EmailTray chooses the corresponding signature automatically for each account you write from.
When I used other email clients, I always had to write "With best regards, Aliona" manually in the replies. With EmailTray you can have several signatures that will be automatically used in the first emails, replies or forwards for specific email accounts.
8. Instant message search.
EmailTray helps me find everything I need in a split second.
EmailTray offers a lightning-fast Instant Search feature which allows you to quickly find what you are looking for.  You just enter the first letters of the contact name, contents of the email subject or email message contents – and EmailTray shows you the results.  The difference between EmailTray and Microsoft Outlook is like day and night in this regard.
9. Syncing your email accounts between all your computers.
EmailTray keeps all my email accounts synchronized between all my computers.
Nowadays there hardly is a person who uses only one computing device. We are so Internet connected that email is checked several times per day from work, the restaurant you have lunch at or your home. EmailTray syncs all your email accounts between all your computing devices, so you may be sure that your inbox is always up-to-date. Yes, an EmailTray for Android app is available that works in sync with the desktop client.
10. Managing all emails from one place.
EmailTray manages all my webmail, POP3 and IMAP from one place.
Add all your email accounts to your EmailTray and it will help you to manage all of them at once, including those based on Webmail (Yahoo! Mail, Gmail, Windows Live Hotmail, AOL Mail), POP3 and IMAP.