A mobile phone is no longer a means of making and receiving calls only. The SMS and MMS features, calendar, calculator, alarm clock, a built-in photo camera and many other features have extended the ways we use a mobile phone nowadays. Having a smartphone now practically means having a computer in your pocket. With a smartphone, you can make calls, check your mail, browse your favorite websites and make online purchases, view weather forecasts and track your favorite sport teams, play games, edit and share documents online and so much more. There is no wonder that more than half of U.S. mobile subscribers now own smartphones.
A Rapid Growth of the U.S. Smartphone Market from 2007-2012
According to this comScore Data Mine report, 9 million Americans owned a smartphone in July 2007 – representing just 4 percent of the entire mobile market. By May 2012, this figure reached as many as 110 million users! See below how fast the smartphone market has been growing within the last 5 years: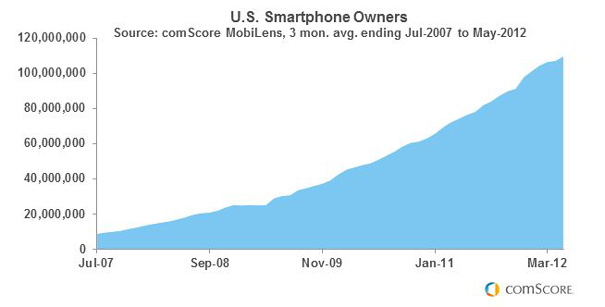 To understand what share smartphones occupy on the overall mobile phone market, let's refer to the Nielsen Mobile Netstats: during Q2 2012 smartphone penetration continued to grow, with 54.9 percent of U.S. mobile subscribers owning smartphones as of June 2012.
Operating Systems Popular on the U.S. Smartphone Market
As reported by the comScore Data Mine, Android now captures the majority share of the U.S. smartphone market. Google Android's share of the smartphone market eclipsed 50 percent in February 2012, an increase of 17 percentage points since February 2011. Apple ranked second with 30.2 percent of the smartphone market (up 5 percentage points versus a year before), followed by RIM at 13.4 percent, Microsoft at 3.9 percent and Symbian at 1.5 percent.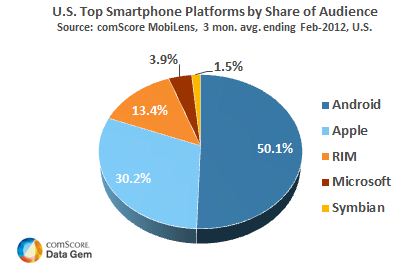 Do U.S. Mobile Users Prefer Browsers or Apps?
It's an interesting question, and comScore's Mobile ® Metrix 2.0 gives the answer: apps account for 4 in every 5 US mobile media minutes. On Facebook, 80 percent of the time spent was via app usage compared to 20 percent via browser. Twitter accounted for an even higher percentage of time spent with apps at 96.5 percent of all Twitter use minutes. As we know, there are bazillions of Twitter and Facebook apps which allow you to schedule your status updates, track your Twitter performance and more.
The chart below demonstrates the method used to access various Internet properties by mobile users – from Google sites to Facebook, Twitter, ESPN and many others: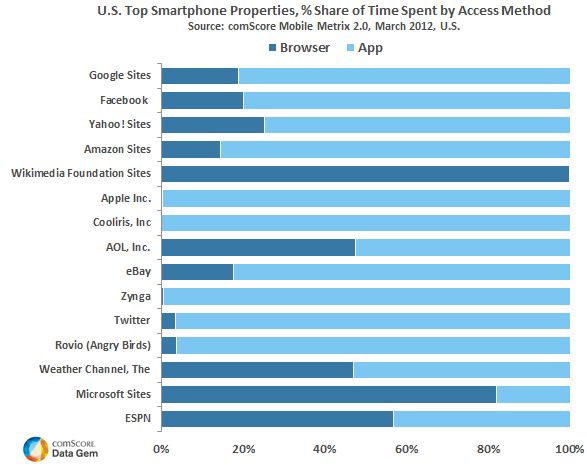 As we see from the reports above, most smartphone users prefer the Android platform and rave about mobile apps – most obviously because they are sexy-looking, fast and are focused on specific tasks. The good news is that the EmailTray email app for Android has these characteristics and gives you access to your mail in a convenient way. The EmailTray Android app provides an intelligent email prioritizing feature which lets you focus on important mail and eliminates information overload.
If your choice is the Kindle Fire tablet – you are not left out in the cold: EmailTray developers have prepared a Kindle Fire mail app for you, too. Download the EmailTray mail app for Kindle Fire, and enjoy your mailing experience!