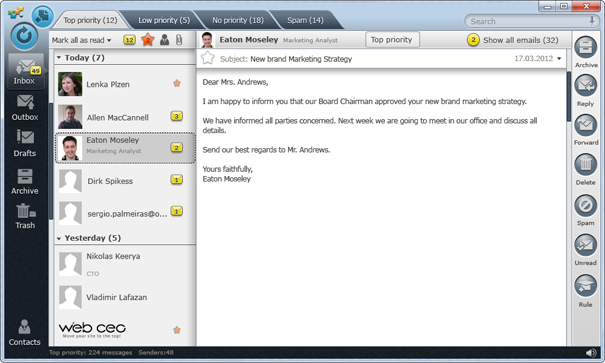 The EmailTray email client for Windows is great in dealing with all email management tasks: it sorts email according to importance and notifies you about important messages only, saves you from spam and phishing, rescues good emails from the Spam folder and synchronizes your contact address book. The EmailTray developer team does its best to implement other ideas to bring you the best email client possible:
The EmailTray email client for Windows is easy to set up. You need just click once to install EmailTray. Install the EmailTray email client.
Add your email accounts instantly. You just need to add the email address and password in most cases and nor further setup is needed. The EmailTray email client knows all the necessary settings of the popular email providers.
Create full and shortened signatures to be added automatically in new emails and replies. Your full signature will be automatically added to all your new emails and the shortened one to your replies and forwards. The automatization saves you seconds, and a second saved is an hour earned.
Turn off/on sound notifications quickly. You can find a sound notification icon in the bottom right corner. Just click it to turn all the EmailTray sound notifications off/on; there is no need to go to the settings if you need no sounds.
Access the most important emails quickly. Click the EmailTray email client icon in the notification area and you will get to the latest unread important email.
Mark spam in different ways. You can mark as spam a message, a sender or all messages from the domain at once. These flexible settings help to fight spam as smoothly as possible.
Create specific rules. You may set a sender's priority before you receive any email, you just need to know the sender's name or keywords in the subject. Do this to be sure you read important emails even if the sender uses a new email address.
Manage your subscriptions in a smart way. The EmailTray email client combines emails from different senders but sent to one subscription email address into one contact card and one thread. Names of the senders in these subscription threads are highlighted so you will easily find a message you need. And there are even more things to make your subscription management easy: you may create rules and mark special senders with different colors.
Add all of one sender's email addresses into one contact card. It doesn't matter what email address your sender uses, you will see the photo you chose for this sender anyway.
Are there any features you'd like to see in the EmailTray email client or Windows? Feel free to tell us in the comments or discuss your thoughts on our Facebook page.