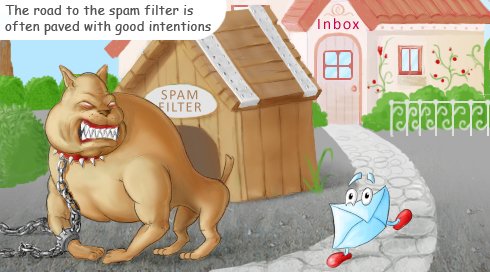 Approximately a quarter of all emails doesn't reach the recipients' inboxes, – reports IBM Email Deliverability Research.
They are buried forever in the Spam folder just because your spam filter was not smart enough. And what if there were really important ones? That is bad from both angles: to be a sender whose email left without an answer forever and to be a receiver who missed an important message because of a spam-filter's mistake.
When you use the EmailTray email client there is much, much less danger of having valuable emails killed like spam. That is because the EmailTray email client uses an approach absolutely different from the usual anti-spam filters.
The EmailTray email client uses its smart algorithm to analyze your inbox and pick out the important emails which are then placed in the Top and Low Priority folders. Besides sorting your inbox according to each sender's priority, EmailTray analyzes your Spam folder and rescues good emails that were trapped there by a spam-filter's mistake. You simultaneously solve email overload without overdoing it.
So using the EmailTray email client you may forget the statistics from IBM and be absolutely sure that all necessary emails are in your Inbox carefully sorted by importance.
Mobile email usage is growing. 27% of all emails were opened on mobile devices during the second half of 2011, up from 20% during the first half of 2011, – says Mobile Email Opens Report.
Understanding that mobile devices are getting more and more popular for checking email, our developer team does everything possible to make emailing on your Android-based devices as pleasant as on your PC.
The EmailTray email app for Android-based devices should be used with the same EmailTray account as the one on your PC.
With EmailTray for Android, you get an email app that makes sure you are always notified about important emails and never miss anything important. The second thing about EmailTray is that the app checks your Spam folder and rescues all valuable emails. Also the EmailTray for Android email client app is great for sharing photos, ringtones, links and other content by email with one click. Of course, there are more great features you will get with the EmailTray for Android. Try it to make sure that the EmailTray for Android is, for you, the best email app available for the Android-based devices.
Using the EmailTray email client for Windows and the EmailTray for Android app you will create new emailing statistics – the statistics of those who enjoy emailing most of the time.