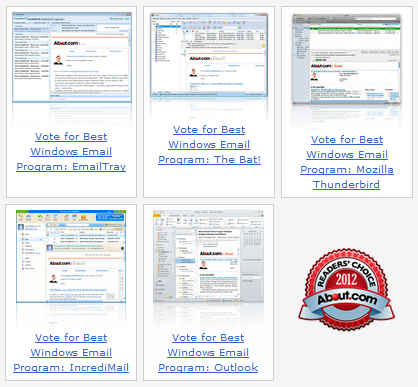 March is definitely the time to enjoy spring and share new ideas with others! You feel great about the sun, the coming spring and the email software that you can't live without! If you are as passionate about EmailTray as we are and cannot imagine everyday life without this smart email client – cast your vote for EmailTray!
Now let's get down to the business. Heinz Tschabitscher (the editor of About.com's Guide on Email, as well as the author of numerous articles on email software, emailing etiquette, tips and tricks on email management, and more) is currently holding a poll for the 2012 Readers' Choice Awards at About.com on several categories regarding email use, including the Awards on the best Windows Email Program 2012.
We are proud to announce that EmailTray was nominated as one of the 5 best Windows email program Awards 2012 along with the other four most popular email clients:
The Bat!
IncrediMail
Mozilla Thunderbird
Outlook
Voting for EmailTray is easy – just follow the link below, select EmailTray from the nominated email clients, then confirm your choice and authorize yourself for voting. You can choose to log on as a Facebook user, or use your About.com login details, or leave your email address to have the system identify your vote. When casting your vote, don't forget to spread the news among your Facebook friends, too!
Vote for EmailTray as the best Windows email program in 2012:
http://email.about.com/od/windowssoftareservices/ig/Vote–Best-Windows-Email-Program-2012/
Voting is open from February 22 to March 21, 2012. Winners will be announced on March 30, 2012. So hurry up and cast your vote for the EmailTray email client!
Thanks in advance for your loyalty and keep on sharing your thoughts about new features and improvements for the EmailTray email client at the EmailTray Support Center.
Best regards,
The EmailTray Team