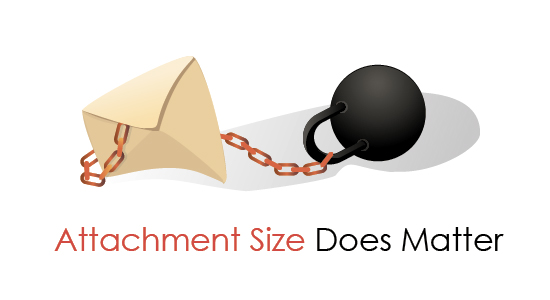 According to the Global Email Deliverability Benchmark report issued by Return Path in March 2012, worldwide inbox placement rates declined sharply in the second half of 2011 to a record low of 76.5% globally, compared to 81% in the first half of 2011. This means a lot more email has been heading to the spam box.
Nowadays it's not enough to create a marketing message, embed pictures and blast this to a large email list. Email deliverability is the issue that bothers marketers a lot. ISPs and Webmail providers, both on the sender side and the recipient side, may block your message for many reasons; and one of them is email attachment size and format.
Email Attachment Size Restrictions
In a race to get the most devoted users, four major Webmail providers (Gmail, Windows Live Hotmail, Yahoo! Mail and AOL Mail) currently have the same restriction regarding the total size of a sent or received message. You can send or receive messages of up to 25 MB each for free.
Some Webmail providers and commercial Email Service Providers will allow you to send larger email messages. However there is no guarantee that the recipient who uses a different Email Service Provider will be able to receive your lengthy message. The attachment size limit of the person receiving the file does matter; if your file is over their limit for receiving, the email will be rejected.
Gmail
With Gmail, you can send and receive messages up to 25 MB in size. However it's not a good idea to send larger attachments to people who might be using the other email services with smaller attachment limits. The good news is that Google offers Google Drive cloud storage service, which adds an extra 5MB of storage to your Gmail account.
Windows Live Hotmail
Windows Live Hotmail has a restriction of 25 MB per email message as well. There is a workaround however. You can take advantage of the Microsoft's SkyDrive service, an online cloud storage service that is available to everyone with a Windows Live Account. You can upload large files (up to 7 GB for free) to SkyDrive and share them with your contacts.
Yahoo! Mail
With your Yahoo! Mail account, you can send and receive emails up to 25 MB.
AOL Mail
AOL Mail restricts messages to no larger than 25 MB.
Mail.com
With the emailing service offered by Mail.com, you can send attachments of up to 50 MB.
GMX.com
With GMX Mail, you can send attachments of up to 50 MB as well. Besides, GMX File Storage offers you another 2 GB of space for your documents, images and media to share with your friends and family.
As for the Commercial Email Service Providers, the limits that the recipient's server has on attachment size may vary from email service provider to email service provider.
Note: The total email size includes the message text, headers, embedded images and attachments. That means that you must take into consideration the total size of the message, not the attachments only. If, for example, you are including a high number of embedded images with your email message, then your attachment size is going to be restricted by the size of the message including the embedded images.
Restricted Attachment File Extensions
Sending the following file types is OK with most of the Webmail providers: word processor or spreadsheet documents, audio files, image files (.bmp, .jpg, .gif, etc.), and web pages saved as HTML files.
It is definitely not a good idea to attach executable files to your email messages, as they might be blocked by email providers or the antivirus software installed on your recipients' computer.
Gmail will not let you send or receive executable files (such as files ending in .exe). In addition, Gmail does not allow you to send or receive files that are corrupted. Gmail won't accept these types of files even if they are sent in a zipped (.zip, .tar, .tgz, .taz, .z, .gz, .rar) format. If this type of message is sent to your Gmail address, it will be bounced back to the sender automatically.
With Yahoo! Mail, you can send all types of files as attachments, including word processor or spreadsheet documents, audio files, image files (such as .bmp, .jpg, .gif), and more. There is no restriction openly stated by Yahoo!, however they kindly ask you to be particularly cautious about executable files, which end with these extensions: .exe, .com, .vbs, .lnk, .pif, .scr, .bat.
Just like with the Gmail Webmail service provider, Windows Live Hotmail will block any email message including executable files.
AOL Mail is quite liberal with its users as far as it concerns email attachment extensions. If the attachments are of the file types .exe, .scr, .com, .msi, .bat, .pif , .vbs, .cpl, or .cmd, AOL Help advises you to compress them before sending. To do this, you can use a third-party compression program such as WinZip.
Email Etiquette for Attachment Sending
Delete attachments from forwarded messages when you only want to share the text. Forwarding attachments for no reason is not polite.
Ask before sending. It is not OK to include a spreadsheet, a document or a presentation file without the recipient's consent, especially if this is the first email message you ever send to a person. You can only send attachments without preliminary asking when a sender knows you well enough or expects attachments from you.
Do not send files larger than 25 MB. If the file that you're trying to transfer exceeds 25 MB, you'll need to either compress the file or split it into smaller parts. Another option is to share this file using a cloud storage service, e.g. Google Drive, SkyDrive, Dropbox, etc.
Scan the file you are going to send for viruses. Sending an infected message to a customer or business partner may ruin your relationship once and for all. Always have your Anti-Virus software running, and make it a rule to scan outgoing messages for viruses.
Do not send attachments after business hours. The chances are that the recipient will be checking mail via a smart phone. Downloading and viewing this attachment might be a pain.
For more tips on safe email sending etiquette, read our post about business email etiquette rules.