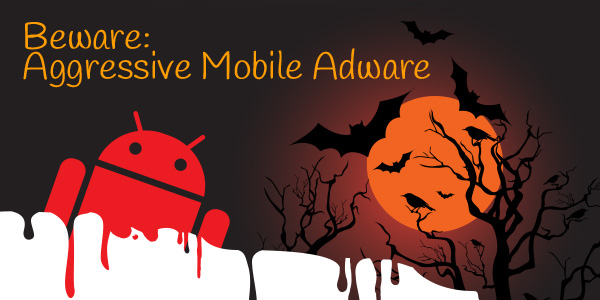 As stated in a TrendLabs 3Q 2012 Security Roundup report, the number of malicious and high-risk Android apps has reached a whopping number of 175.000 this year! This is almost 4 times as much as predicted by TrendLabs, and these figures tend to grow really fast!
Popularity comes at a price, and curious Android users who download a lot of apps have to pay for it. For example, the Obama vs Romney Android app, which served many unwanted annoying ads outside the app, was downloaded as many as 1,000 times from Google Play alone.
What the Adware Apps May Do On Your Mobile Device:
Access the Internet without your knowledge
If you access the Internet mostly via Wi-Fi – you have less to worry about. If you access the Internet via costly 3G or 4G connection – the adware modules may boost your mobile bills.
Collect user data and send it to the ad network to serve you ads better
The worst thing is that some apps may do this without your explicit knowledge or consent. The data sent from your mobile device may include device's IP address, device identifier, your location, as determined by GPS, your phone number, etc.
Interfere with your mobile experience
Some ads within the ad-based Android apps are perfectly legitimate since they are contained within the app. However, an increasing number of mobile ad networks place ads outside of the app. For example, they may send ads via PUSH notifications or add unrelated icons to your phone.
Drain the battery of your mobile device
Since all mobile ads download advertisement data from the Internet, they will have to access their network from time to time in the background. As we all know, extensive use of Wi-Fi and 3G decreases your battery charge. If your smartphone goes dead by the end of the day – check out our blog post dedicated to the problem of smartphone battery drain and the ways to solve the issue.
Five Tips to Protect Your Mobile Device from Adware and Malware
1. Download Android apps only from Google Play
Getting apps from Google Play is the safest way, as this is the primary marketplace for Android apps. Google Play is thoroughly checked for adware and malware on a regular basis. Once a suspicious app is detected by the Google Play editorial staff or reported by users, it is quickly removed from the Google Play website. However a link to the harmful app may often remain on third-party sites.
2. Read user reviews before installing an Android app
When reading the app description on the Google Play page, take a look at the app rating and the overall tone of reviews. Although some of the reviews may be biased or written by the developer staff, a lot of unbiased reviews and the rating volume may give you a clue as to the quality, performance and credibility of an app.
3. Are you downloading a free app? Make sure it doesn't include any adware modules
A number of Android developers use an ad-based business model to cover their expenses and support product development, so find out if this is the case with the new app you are going to install. Some ad-based Android apps are not very intrusive and this can be learned from the user reviews. However some apps may use a very aggressive model of advertising, for example pushing ads via notifications, so beware. If you need an Android email client, use EmailTray, which is guaranteed not to give you the above problems.
4. Read what permissions the app in question requires
The "PERMISSIONS" tab on the app description page normally provides a list of functions that the app may use on your phone or a tablet. For example, an app may share your location detected by your GPS module, read contact data, modify global system settings, etc. If you see that the app requires too much and feel that you don't trust the app vendor – reserve yourself from downloading this app.
5. Install mobile security and anti-virus software
If you download all kinds of Android apps on a regular basis, a good preventive step would be to install anti-virus software to ensure that you don't get trapped by the mobile adware or malware developers.
You can try out any of the following anti-virus apps for Android:
Mobile Security & Antivirus by Trend Micro
Dr.Web Anti-virus by Doctor Web, Ltd
Anti-Virus FREE by AVG Mobile technologies
Kaspersky Mobile Security Lite by Kaspersky Lab
Lookout Security & Antivirus by Lookout Mobile Security
Hope this will help you keep your Android smartphone or tablet safe from aggressive adware and malware. Be careful when installing new apps, and have a happy mobile experience! Ooh, did we wish you a Happy Halloween?