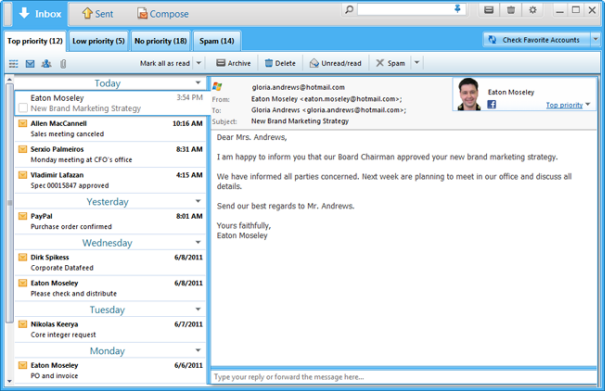 Welcome to the corporate blog of the EmailTray Team! We promise to keep you updated on every little feature appearing in the EmailTray email client, so stay tuned and never miss a chance to learn more about EmailTray so you can make your mail flow more easily and enjoyable to process!
In two words, EmailTray is a free lightweight email client (desktop and Android mobile) the desktop version of which offers you many features that normally come with a regular email client:
Tracking multiple email accounts
New mail notifications
Instant search across messages
Custom email rules
HTML editing
Custom signatures
Apart from these essential features, EmailTray also offers a unique email sorting feature which beats all other email clients because it allows you to forget about ever experiencing a flooded inbox. Thanks to EmailTray, you can now concentrate on the most important messages only. EmailTray analyzes all messages that come to your Inbox and prioritizes those it considers really important to you.
How does EmailTray know for sure which email messages are important to you and which are not? The secret lies in a smart email sorting algorithm which helps EmailTray determine which messages come from authorized email senders or people that you or your friends have previously communicated with, which emails come from official companies and which are junk mail.
If you are tired of email overload and want an effective solution to overcome it – EmailTray is your best choice! If you still don't use this simple yet smart email client – it's time to give it a try!
Welcome to our blog and stay tuned for the most recent news on new EmailTray releases and software updates, new features, insider notes, how-to's and much more!
Best regards,
The EmailTray Team