According to Symantec.Cloud data updated on a monthly basis, March and April 2012 were the lowest months for spam attacks within the last 12 months. As we can see from the chart below, May 2012 showed a rising trend and email spam reached a whopping 72.89% rate in August 2012. It is interesting that the spam rate in August 2011 was almost the same:  75.9%.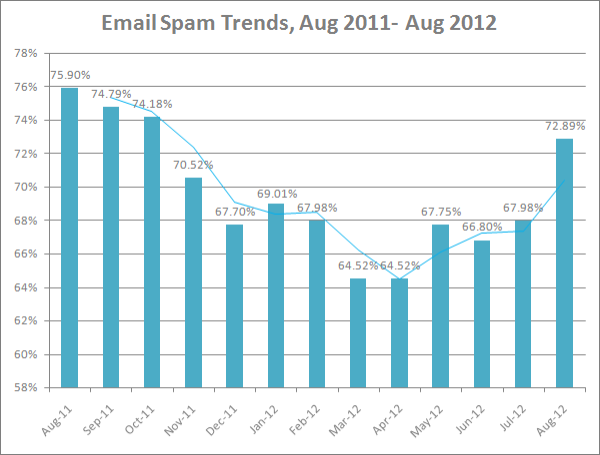 Most Spammed Countries in August 2012
As stated in the Symantec Intelligence Report issued in August 2012, the highest volume of spam was detected in the electronic mail of Saudi Arabian users: 83.3% of all their mail was spam. Norway comes next in the list, with the rate of 78.1%. Chinese users received 77.6% of spam messages; Oman email users experienced a 77.3% spam rate and Brazil users – a 76.7% spam rate.
If we compare these figures to the Symantec's email spam statistics dated August 2011, we'll see the following:
Saudi Arabia – 84.8%
China – 81.6%
Italy – 81.3%
Russian Federation – 81.1%
Sweden – 78.8%.
As we see, email users from Saudi Arabia and China suffer from spam more often than the rest of the world.
Global Spam Categories in August 2012
In August 2012, the most common category of spam was related to Sex or Dating, with a 42.51% share among all spam messages. Pharmacy-related messages took second place in the list – with the 32.61% share. The Watches category evened out the top-three list of the most popular spam categories, with a 8.55% share.  View the chart below to see how the other spam categories are represented in the list: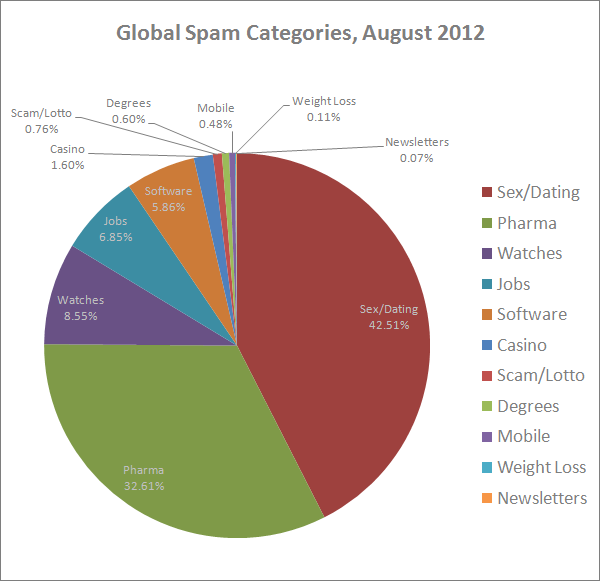 If we compare a Symantec's Intelligence report issued in August 2012 to the same report issued in August 2011, we'll see that the top three spam categories haven't changed (Sex/Dating, Pharmaceutical and Watches), however Jobs and Software-related spam popped up this year: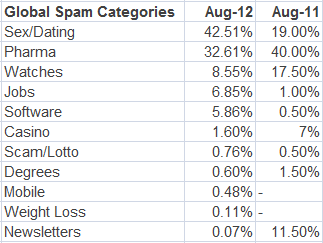 How to Stop Email Spam
This topic deserves a standalone blog post, so we'll highlight the most important points only:
Do not give away your primary email address when registering online. Use a secondary or special address for registrations.
Unless you are a salesperson, don't include your email address in the public profiles visible by everyone.
Choose an email address which is difficult to guess.
Never respond to spam emails such as by asking to unsubscribe – this will confirm your email address validity rather than unsubscribe you.
Use a spam filter on your computer or in your corporate network.
Use the "Report spam" option within your email client so that you never receive emails from this sender again.
Update your anti-viral software on a regular basis.
We never stop saying that you should also try EmailTray – not only because this is our offspring project, but also because it is a really smart email client offering powerful email prioritizing features. With EmailTray, you will be focused on good mail rather than junk mail, so go ahead and download EmailTray for Windows, or grab your smart email app for Android at GooglePlay!
Happy emailing!