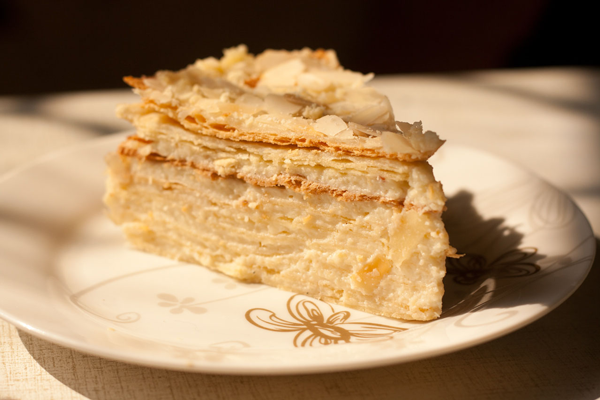 As reported by comScore, 116.5 million people in the U.S. owned smartphones during the three months ending in August 2012. This was a 6.5% increase from May 2012, when the number of smartphone users hit 110 million. A majority of American smartphone users preferred Android-based devices in May 2012; this was true as well in August.
US Smartphone Market: The Share for Android and Apple Increased at the Expense of RIM, Microsoft and Symbian
According to the comScore MobiLens data, Android smartphones gained a 52.6 % market share in the U.S. by the end of August 2012. It was a prominent 1.7 % growth from 50.9 % in May. The advancing army of Android-powered phones was represented by the Samsung Galaxy series, Motorola Droid Razr, HTC One, LG Genesis and some others.
Apple smartphones gained a 34.3 % market share by the end of August 2012, a 2.4 % growth from 31.9% in May.
RIM's BlackBerry OS continued to be the third-most-popular mobile platform in the U.S., with an 8.3 % market share. Unfortunately RIM's share had shrunk substantially in the three months covered in the report (a 3.1 % drop from 11.4 % in May). BlackBerry's share of the smartphone market has fallen far behind the #1 and #2 market leaders.
Microsoft's share dropped from 4.0 % to 3.6 % by the end of August (a 0.4 % drop). The Symbian OS experienced a 0.4 % drop on the US market as well – from 1.10 % in May to 0.7 % by the end of August.
As we can clearly see from the chart below, the Android and iOS smartphone platforms grew their market share at the expense of RIM, Microsoft and Symbian OS: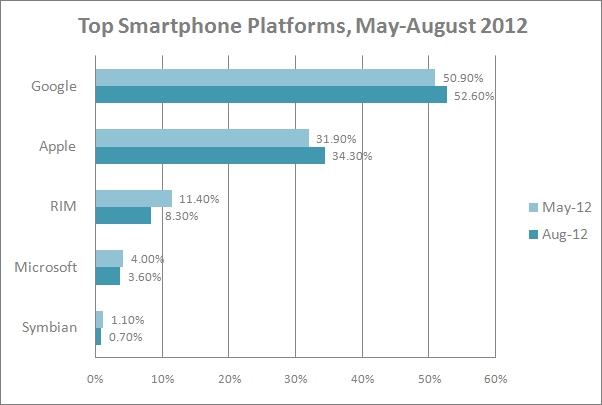 Most Popular Mobile Phone Manufacturers from June-August 2012
According to the comScore data, Samsung ranked as the top device manufacturer with 25.7 % of U.S. mobile subscribers in June, July and August 2012. The #2 mobile phone brand was LG – with an 18.2 % share of the mobile market. Apple gained a 17.1 % share of mobile subscribers, followed by Motorola with 11.2 % and HTC with 6.3 %.
See the chart below which outlines the US market share of each mobile manufacturer in August 2012: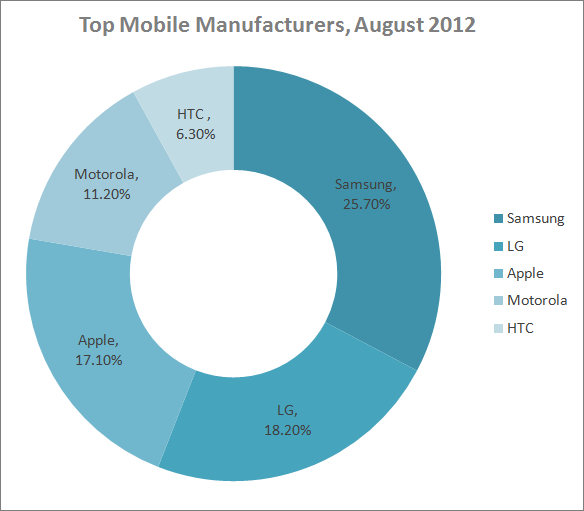 If your choice is Android, the leading smartphone platform, we've got good news for you! There is an advanced, lightweight email productivity tool available on the market: the EmailTray Android mail app.
EmailTray has a smart algorithm that will organize your mail according to sender priority and help you save extra time that you would have otherwise wasted on sorting emails in your Inbox, deleting spam messages and prioritizing the good ones. Download the free EmailTray Android mail app from Google Play and say good-bye to a cluttered Inbox, once and for all.